New to the site and a good one it is.
I have an Olix Air-Flo wood/coal burning stove that I bought in the mid 80's. I mainly burned coal in it and used wood for the shoulder months of winter
and starting the coal fires. When we finished off our basement in the winter of 2004, my wife and I decided that we would burn just wood mostly because
of the "dust factor" and I took out the coal bin I had built as part of the remodeling.
I have access to land to get firewood and enjoy the time in the woods and the exercise involved in the firewood gathering process. The usual problem was
having the time to get a winters stock of wood and I would end up buying a cord or two anyway.
A month ago looking at the wood piles I realized I would come up short again and thought maybe it was time to re-think using coal. I found this site while
searching possible coal bin solutions or temporary solutions for this winter. I also came across some great tips on maintaining a good burn on here also.
As long as I burned coal before, I always seemed to have some kind of issue along the way. The bottom line I think was that I "fussed" with the burning process
to much.
Plus now that the basement is insulated and finished off, I don't have to try and burn as hot as I did before.
Being just north of Scranton I grabbed 10 bags of nut coal from Agel Coal co., which I can dump 5 bags into a 45 gal. tote container right outside the basement door.
I picked up a 4 qt. feed scoop at TSC, (another tip I got on here), and this little system is working well. I've been burning the coal since Jan. 10 and.......
I'm liking it, a lot. So is my wife. Again from tips on here, the dust hasn't been to bad and something I will continue to research on here.
The search function here works well !
Another reason for me re-thinking coal is that I turned 57 this past year and as much as I enjoy the firewood gathering, one wonders how long that will last.
As far as cost per month, wood vs. coal, I've generally thought before and now, that it was a wash. Give or take a little. By the way, our small ranch home is all
electric heat, so we do save quite a bit.
Again, thanks for a great site with lots of good information and knowledgeable posters. Heres a couple shots of the stove. This is a wood fire though.
Olix Air-Flo. Model - Hudson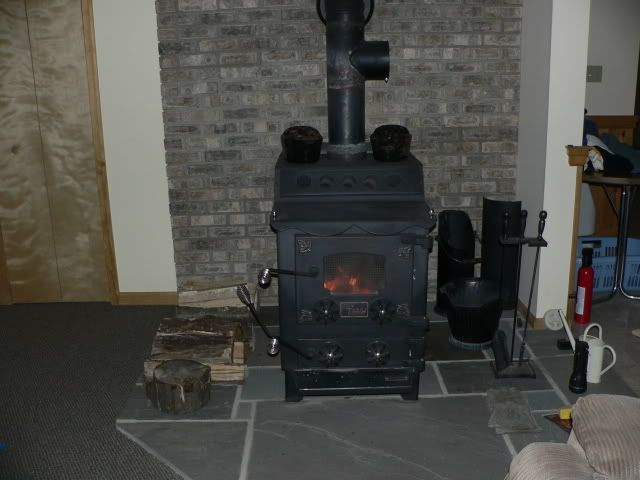 These two enjoy the stove.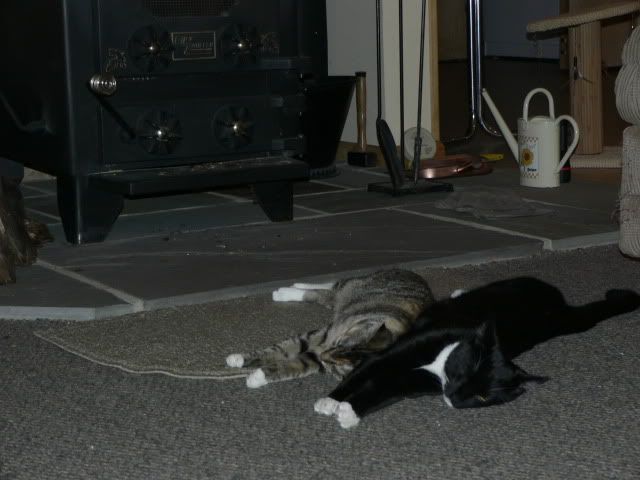 Kevin