Finally made it up to Lebanon Junction to check out a Model 500 I found on Craigslist. Although it lacks a bi-metal thermostat like a 400, and I'm afraid I won't be fully satisfied until I find a 400, it was just entirely too nice to pass up. It has a couple of dings in the cabinet but nothing terribly ugly and I'm going for function over form anyway. Here I 'm unloading from the suburban onto my ATV trailer: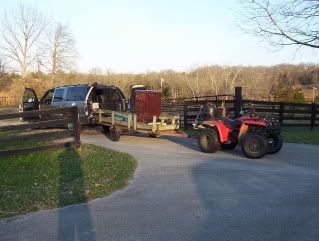 While filthy, I cleaned enough up to tell the cabinet will look good (Okay, as good as it can look) once cleaned up: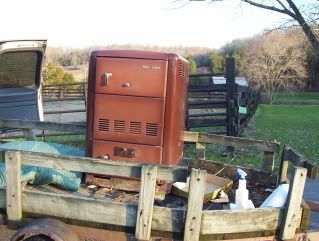 But more important than the cabinet is that the works are in great shape. There's a few easily cemented cracks in the flat fire brick in the back but all 4 corner chimneys are perfect and show very little use: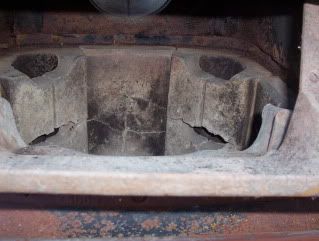 And the grate appears to be perfect without even any serious pitting just some surface rust, that's a fruit jar lid and other trash I hadn't cleaned out yet: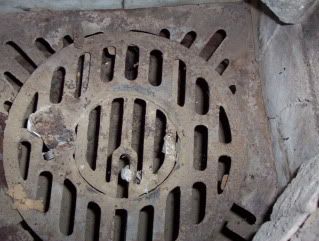 The ash tray is present and sound, although I may have another made while I'm getting it ready to use and I still have a good pattern: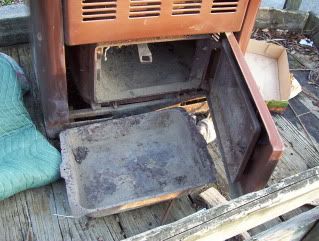 I am however missing the shaker handle assuming it isn't buried in the ash in the ash pan compartment and the "M" is broken off the namplate. It's an 80 lb stove and I hope that's enough until I can find a good 400. It's a big rascal, stands 42" high, 28" wide and about 24" deep. And heavy, I've always taken the stove out for the summer. That may change with this unit!